Gryphons in the Community
As members of the Gryphon Football team, we have a responsibility to give back to our community to create long-lasting relationships.
Community service is essential to build character. Each gryphon is fortunate enough to attend university and we want our student-athletes to realize the importance of helping others.
Gryphons have been given a great gift of athleticism and ability to participate in activities, and by being an active member of the community we are building leaders both on and off the field.
Giving back to the community brings us closer as a team and as a family.
HeForShe
Every year, Gryphon Football sponsors a HeForShe event at the University of Guelph. As a very large and visible group on campus, it is important for us to be informed of gender equality issues and involved in creating change.
Bell LEts TALk
For Bell Let's Talk Day - a day dedicated to helping to end the stigma surrounding mental illness – several of our Gryphon Football players and staff joined other Gryphon athletes at John Galt Public School in Guelph to speak with students about the importance of mental health awareness and communication for the third year in a row.
Reading to Elementary Students
A few of our Gryphons volunteered their time this exam season to spread some holiday cheer at the local St. Ignatius Elementary School reading books to students.
remembrance day
For the Yates Cup final on Nov. 10, our players wore poppies on their helmets in honour of Remembrance Day. Thank you to our co-op students from Guelph high schools for your help!
Breast cancer awareness month
In support of October's Breast Cancer Awareness month, we led a table in the University Centre to collect donations ahead of our Think Pink game. In total, we raised $4500 for the Canadian Cancer Society!
homecoming ticket sales event
The week before homecoming, some players came out to the ticket sale to pose with students and run a target practice station. It's important for them to be involved with events that support them.
Move-In Help
Our players helped excited first-years move in on Saturday, September 1st. Our players really enjoyed helping others and the new students were very grateful. Our players look forward to helping new students with many more move-ins to come.
Waterfight at Arbour Vista Public School
Some of our players and coaches visited Arbour Vista Public School to have a waterfight with some of the students. Our players in attendance were: Zeph Fraser, Sam Lewis, Harry Robinson, Jamal Hooker, DeAndre Rose and our staff in attendance were: Head Coach Todd Galloway, Director of Recruiting Mike Aloisio and Assistant Recruiter Taylor Floris. We absolutely loved going to Arbour Vista and having fun with the kids!
Summerfest
For Summerfest's second year, Gryphon Football decided to join in on the fun!
Summerfest is a free, annual event for University of Guelph Alumni and Guelph Community Members held on Alumni Weekend. Gryphon Football was very excited to join in for the day's festivities. In attendance were our players: Akeem Knowles, Dotun Aketepe, Elijah Walker, Jordan Terrio, Zeph Fraser and our co-op student, Alex Zebeljan. Our players were doing temporary tattoos for Summerfest attendees and free home game tickets. They also took photos with attendees and mingled with the Guelph Alumni and Community.
Gryphons in Ecuador 2018
Every year, Gryphon Football invites up to four players to participate in a MEtoWE trip. MEtoWE is an innovative social enterprise that aims to procure large scale funding for humanitarian operations around the world. The university trips run by MEtoWE give volunteers hands-on experience working alongside community members on a WE Charity development project. In particular, Walker Breen and Graham Brodie were granted the opportunity to go to explore and volunteer in Ecuador.
Breen and Brodie assisted in building the foundation of a school while they were in rural Ecuador. Our players spent the majority of their time in a town called Cruz Chicta which suffers from a lack of educational infrastructure, clean water and health care, and numerous agricultural challenges which have stifled productivity and growth. Seeing these problems made our players motivated to help the locals.
To read more about their experience in Ecuador with MEtoWE, click here.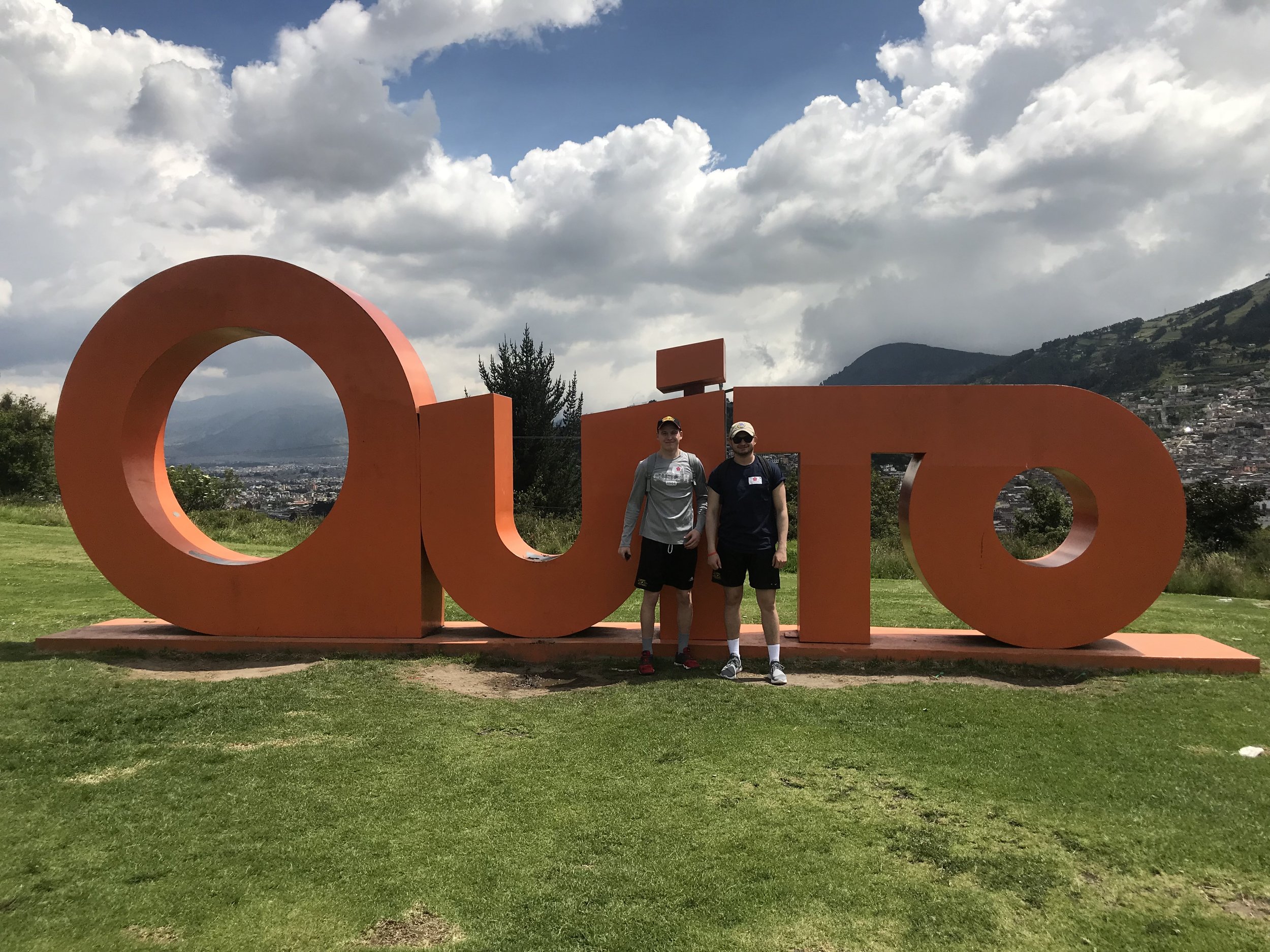 grey Cup Tour
On the 4th of May, 4 incredible former Gryphons took part in the Grey Cup Tour. These athletes are none other than Cam Walker, Jake Reinhart, Curtis Newton and Jeff Finley of the Toronto Argonauts. Because of their latest victory in the CFL, these athletes decided to visit Guelph to give back to a community that gave them so much.
They visited John Galt Public School, Guelph Collegiate Vocational Institute and Willow Road Public School. At these schools, the four Argonauts, dressed in their Gryphon jerseys, spoke to students and signed autographs. Both the former Gryphons and the students really enjoyed the visit.
As well, the athletes visited the Guelph City Hall where they recieved a warm welcome.